Customer Reviews
"I purchased the basic Titanium Money Clip. Let's not get crazy here, it's just a money clip for gawds sake. But what a money clip it is. I don't think the metal will fatigue ever. There are no springs of any sort to break or fatigue. You can spend a lot more, but you won't get the quality and longevity this product offers!"

- Michael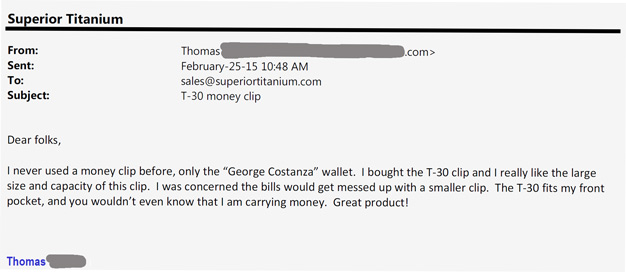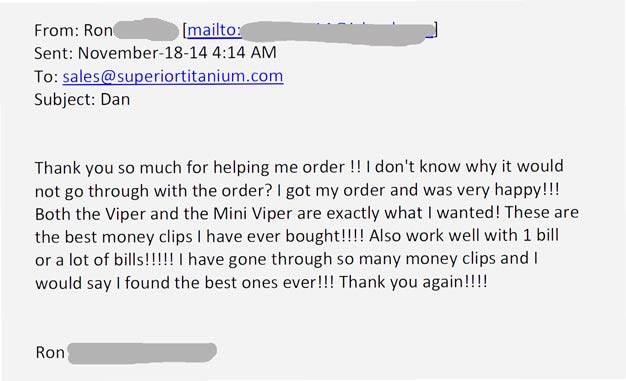 "I just want to say thanks for creating a product that performs as advertised!!! I initially purchased a Viper Money clip and was so satisfied I purchased a Mini Viper. I thought so much of your product I began giving them as gifts and showing them to my friends. I have had several friends purchase numerous clips and come back and tell me thanks for showing them the great quality of your product. I recently purchased two Key Armor digital camo key organizers and could not be happier with their performance, again another home run in style durability and usability. "

- Jim

This is even batter then what I expected best money clip ever , almost no Wight at all, its fit more than I thought , I don't feel I have in my front pocket, very easy to take credit card or money out, look grate too UNIC, this pic is with 5 card and 14 bills,
thank you very much

Hey guys I've had the big titanium clip [VIPER] for like 4 or 5 years now and it's still working awesome, same as the day I bought it. If you give me an email address I can send a couple good pictures. The gold coating it's durable af. Great product!
Scott from Canada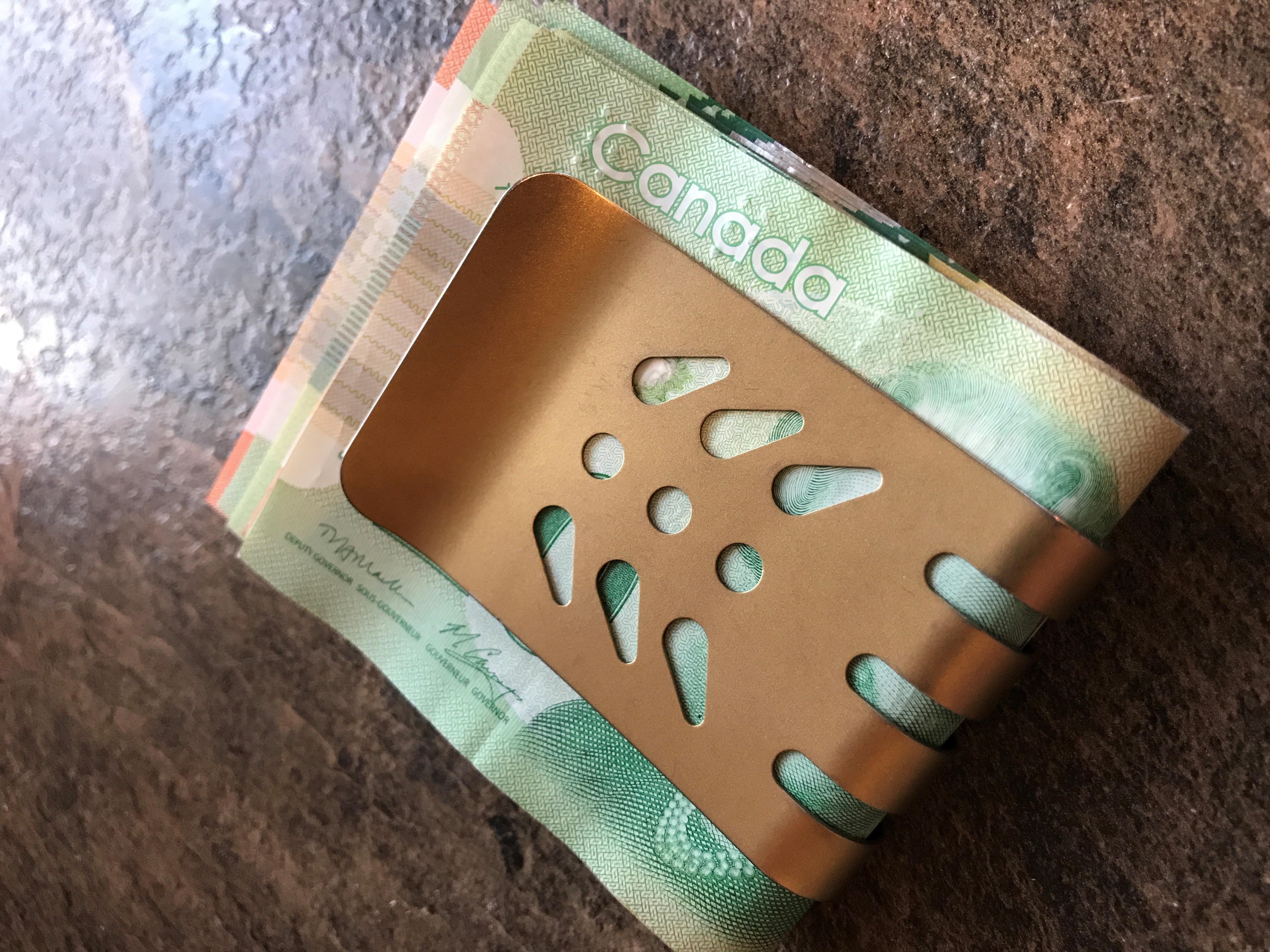 "I was given one of your VIPER Black- Large Ti Money clips over the last weekend… I am amazed! My friend had 100 bills folded- threwit at me and I was instantly SOLD. He's ordering another one…I kept his….minus the money!I'll be ordering 2-more soon…one for a gift and one to keep as a spare! I've owned "many" over the years….this one ROCKS! Your website is excellent-by the way! "
- Jeff C.

I bought a titanium money clip about a year ago and I wanted to let you know that it is one of the best purchases I've ever made. I've had anywhere from 1 to 50+ bills in it and it always retains its shape and ability to hold money. I could not be happier.
- Matt S.


"I purchased a Viper mini money clip a few weeks ago and wanted to let you know it is by FAR the best money clip I have ever used. I 've been searching for a few years now and been through multiple other clips in trying to find the perfect clip. The Viper mini is that clip. Thanks and keep up the great work!"

- Jared
"The problem is most money clips are fashionable, but worthless to carry more than a few bill and a couple of cards. Soon they wear out and won't hold anything tightly. This clip is perfect. It holds everything I need and springs back like a champ. I 'll be ordering a few more for gifts and backups in the future. Thank you again for an amazing product."

- Franklin

"This money clip is the best I've ever owned. My last clip was very heavy and after a few years of using it, wouldn 't hold tight unless you had a large number of bills. My mini-Viper is light, and holds tight, love it.Great product!!!"
- Rod

It was a great surprise and an honor to be featured in the first ever GQ Style Bible in 2012

For many more item specific reviews visit our individual products pages! If you have a review you'd like to submit you can email or complete your review through our new review section on each product page.